St. Paul's Hill (Bukit St. Paul)
This is an interesting hill with history of the Portuguese and the Dutch. A few vendors selling trinkets are at the entrance. The ruins of the church are impressive and there is a sense of history and loss glory that oozes from the scene. You will find there a lot of tombstones; dating back to 1650s. This old church is very well taken care off and even the statue of St Francis Xavier as had his arm chopped off.
The church bit is interesting and if you can strike up a conversation with one of the vendors then you can learn a bit more. The steps down leading to A'Famosa Fort are a challenge. They are differing heights and some are narrow or very high. But at the bottom there are some of the old original buildings, some housing museums.
Gradually Sloped Pathway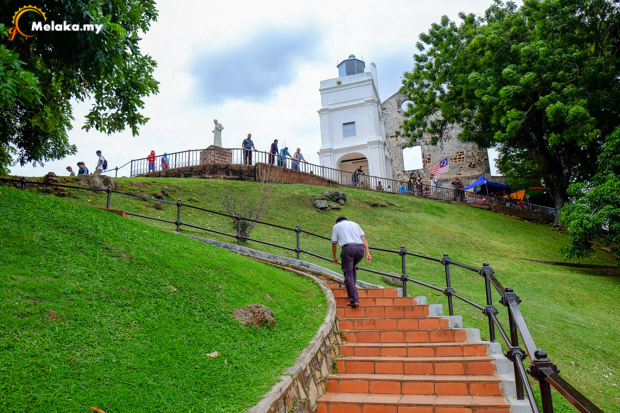 Don't be put off by the hill as it is only a short walk and well worth it. It takes only less than 15 mins of slow hiking from Red Square to get to the top of the hill. The path has iron handlings on one side beside green hilly fields.
Ruin's Exterior
The exterior is mostly of ruins and resembles Portuguese architecture. A small paved path is cut out on the hill top that leads visitors inside the church ruins. The church is dedicated to Saint Paul the Apostle and you'll see his statue painted in white.
Ruin's Interior
The interior is of natural ruins with unpainted depleted walls. It screams of history as the walls are engraved with vertical tombstones. The area has no roof and the entrances are arch-shaped with similar shaped windows on the side walls.
View
The church offers breathtaking view of the Melaka city. The best view point is where the monument of St. Paul is located. The never ending skyline can be viewed from the edge of the view point which is circled with railings.
Performing Artist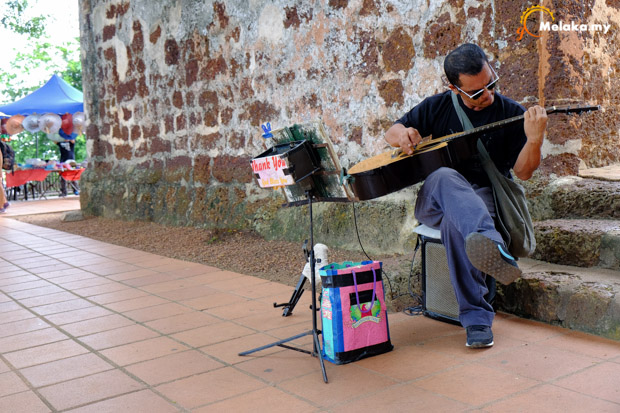 As featured in Best of Melaka Travel in 1-day walking
Famous Melaka Location
Nearby Attraction
Distance from St. Paul's Hill (Bukit St. Paul)
Map
Compare hotel prices and find amazing discounts